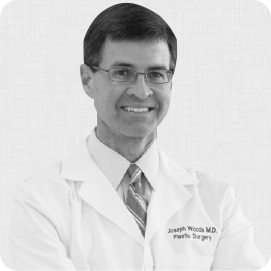 Welcome to the practice of Joseph M. Woods IV, M.D. Since 1992, Dr. Woods' office has been known for our honest, caring, compassionate, and professional treatment of plastic surgery patients. We recognize the importance of carefully choosing a plastic surgeon and we have strived to provide the service we would be looking for in a surgeon's office—impeccable credentials, technical excellence, and patient satisfaction.
Educated at Princeton, and trained at two of the most prestigious medical centers of the south, Emory and Vanderbilt University, Dr. Woods is a Board Certified Plastic Surgeon. Certification by the American Board of Plastic signifies thoroughness of training, passing written and oral exams, abiding by strict guidelines, and continuing education requirements. Dr Woods makes an annual commitment to staying on top of the advances in the field of plastic surgery and attends scientific conferences on a regular basis.
Dr. Woods is a native of Pennsylvania. As a college student, he had great physician role models during summer externships who encouraged him to pursue a career as a plastic surgeon. He re-located to Atlanta in 1985 and has never looked back! He has been in private practice in the greater Atlanta area since 1992. Spanning more than 20 years, Dr. Woods' reputation among his peers and former patients is one of attention to detail, clinical excellence, and personable bedside manner.
Perhaps the most rewarding aspect of Dr. Woods' career has been the opportunity to serve in missionary hospitals in the developing world. Starting in 2000, Dr. Woods and his family began serving through the international relief organization Samaritan's Purse. They have worked in mission hospitals in Kenya, Zambia, and Ethiopia. After learning of the severe lack of healthcare providers in these regions, Dr. Woods has viewed it a privilege to work alongside full time missionary physicians and national doctors, operating and also teaching plastic surgery procedures.
Presently, Dr. Joseph M. Woods IV serves as chief of plastic surgery at Piedmont Hospital. Atlanta Magazine has published the "TOP DOC" issue regularly, including a peer physician survey of the top vote recipients from all specialties. Dr. Woods has been on the top plastic surgery list every issue since 1999, most recently July 2018. He is a member of the American Society of Plastic Surgeons, the Southern Society of Clinical Surgeons, and the Christian Medical and Dental Association.
We encourage you to browse our website to learn more about plastic surgery services we provide. We always welcome new patients and any questions you may have.