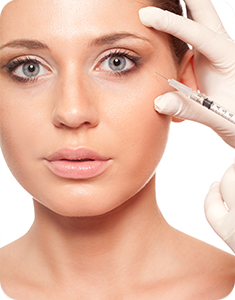 For our patients with early or mild changes of facial aging, we have excellent tools in our plastic surgery armamentarium. Botox, the most commonly performed plastic surgery procedure in the U.S., has tremendous application in helping our patients minimize their facial wrinkles. These troublesome wrinkles and skin creases can make you look tired, sad, depressed, angry, mean, or worried. Botox works by paralyzing those facial muscles that cause these frustrating wrinkles. Facial regions which have shown to be improved with Botox include wrinkles between the eyebrows, horizontal lines on the forehead, crow's feet adjacent to one's eyes, and can also provide a slight lift to the outer tails of the eyebrows. Dr. Woods' goal is to help your external appearance match how you feel on the inside. While "surgery" has been the mainstay of our practice, there are huge advantages to office based injections. There is no general anesthesia, no scars or prolonged swelling, minimal discomfort, and no "recovery time". Botox injections usually take 5-10 minutes then you are out the door. You can return to work immediately, but hold off on exercise for 4 hours, and no aspirin products the week prior to your injections. Botox can be customized to EVERY patient based on your wrinkles and budget. The effects of Botox kick-in 5 – 7 days after the injections, and usually last 3 to 4 months. Our repeat customers testify to the effectiveness of Botox!
In some cases, the facial wrinkles and creases are not caused by muscle contraction, but rather gravity and tissue descent, Botox is not the answer. Dermal fillers are the "new kid on the block" to allow the plastic surgeon to plump up the sunken creases and camouflage the gravitational descent of the tissues. Additionally these fillers work well to help those born with thin lips have a pouty, fuller lip appearance, and can also help sunken, traumatic facial scars be less noticeable. These fillers are carefully and artistically injected just below the skin and typically last for 3 to 12 months, depending on the region being injected. Our patients can usually return to full activity within 3 –4 hours, and may plan on socializing that evening.
While Botox and fillers are excellent on contour deformities, that still leaves fine surface wrinkles and poor quality skin to deal with. Dr. Woods has found that Chemical Peels offer a safe, reproducible, and effective option to Retin-A, or spa based microdermabrasion and light peels. Dr. Woods' peel of choice is Trichloroacetic Acid (TCA). TCA can be applied to one's entire face, or just to troubling areas individually (forehead, around the mouth, or lower eyelids). The peel takes 30 – 45 minutes to apply. You will care for it by gently washing the peeled areas with your hands and mild soap three times a day, after which you will apply a thin layer of antibiotic ointment. Your skin will begin peeling 2 – 4 days after the treatment, and continue to peel for 5 – 7 days. It will resemble a severe sunburn. After the outer 2 –3 layers of your dried out, wrinkled skin separates, you will be left with fresher, more youthful appearing skin.
Two final points. Dr. Woods will advise you as to which of these office-based treatments might be helpful for you personally. Most importantly, Dr. Woods performs every one of these procedures himself and does NOT delegate these powerful treatments to a nurse or technician.